So at my animal care job, we recently created a bioactive vivarium (~200 gallons) that was home to a tangerine male (very stereotypical tangerine) who unfortunately is afflicted with stargazing, as well as a female (I don't know her morph but she's grey with black freckles). I unfortunately don't have any pictures of these two. They hadn't ever successfully bred in their previous enclosure, and I was going through a move so I brought my female over to hang out in this kick a$$ enclosure during the transition. I want to know her morph (I've been told tremper albino but she doesn't look albino to me) She's pictured below:

So my first question is what morph is she?
But to make things more interesting, after a few months there she suddenly stopped eating and got really skinny. I got worried and took her home and she immediately fattened up.
THEN a few weeks ago we found 2 babies!!!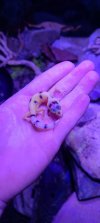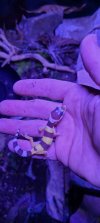 All the evidence pointed to my female as the mother but then we found a third today!! Identical to the striped one!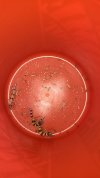 Knowing a clutch of 3 is nearly impossible, did both females successfully reproduce with the tangerine? Which female goes with which babies? Any help would be welcome. Sorry for no pictures of the other two adults.