Hey all! I wanted to ask you guys your opinions on my hatchlings morphs. I've had leos for years but this was my very first year producing hatchlings. Right now I just have 5 TSM and a lot more females due in the next couple of months
First pairing was my Mack snow tremper boy with my white and yellow RAPTOR tangerine girl. So far I know all three hatchlings of this pair are tremper albinos and all are 100% Het for eclipse, although I'm still not sure of the white and yellow or Mack snow has carried over to them. I'm thinking white and Yellow has for the first and third hatchings, but what do you think? Honestly the second one is the most confusing. He's not coloring up like my other two, but his stripes aren't completely white like a Mack snow either.. what do you think?
First Hatchling, about 19 days old: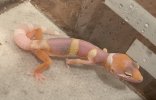 Second hatchling, about 6 days old: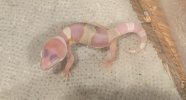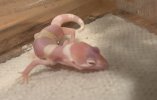 Third hatchling, about 6 days old:


My second paring was my super Mack snow tremper pos eclipse girl and my Blood hypo tangerine boy. I know, weird combo, but I really wanted to see what would pop out of these two. Both hatchlings look to me as though they're Mack snows, but the second one has more brownish-orangish coloring on him and more of a rusty color on his head. What are your guy's opinions?
First hatchling, about 4 days old:

Second hatchling, about 3 days old: